The Sandman Will Keep You Awake - The Loop
Play Sound
Your Voice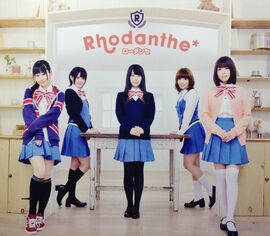 Performed by Rhodanthe*
Your Voice is the ending theme for the anime adaptation of Kiniro Mosaic. This song is performed by Rhodanthe* along with the opening Jumping!!.
Lyrics
[
]
TV Ver.
[
]
Arifureta hibi no, subarashisa ni, kidzuku made ni
Futari wa tada, itazurani toki wo kasanete sugoshita ne

Marude sora no yō ni, ōki na yume, tsumugu koto mo
Michi no hashi ni, saku na mo nai hana ni wa totemo kanawanai

Namida no hitotsubu ga mizutama no yō ni hajikete mo, kimi no waraigoe dake wa
Itsumo boku no soba de kagayaite mieru, sono mama no iro de

Please Gimme Your Voice! kimi to boku ga, ima koko ni deatta koto
Chīsa na shiawase ga ōki na, ai ni tsutsumareteku

Aisuru kimi no tame ni
ありふれた日々の 素晴らしさに 気づくまでに
ふたりはただ いたずらに時を重ねて過ごしたね

まるで空のように 大きな夢 紡ぐことも
道の端に 咲く名もない花にはとてもかなわない

涙のひと粒が水玉のようにはじけても 君の笑い声だけは
いつも僕のそばで輝いてみえる そのままの色で

Please Gimme Your Voice! 君と僕が いまここに出会えたこと
小さな幸せが大きな 愛につつまれてく

愛する君のために
Full Ver.
[
]
Arifureta hibi no, subarashisa ni, kidzuku made ni
Futari wa tada, itazurani toki wo kasanete sugoshita ne

Marude sora no yō ni, ōki na yume, tsumugu koto mo
Michi no hashi ni, saku na mo nai hana ni wa totemo kanawanai

Namida no hitotsubu ga mizutama no yō ni hajikete mo, kimi no waraigoe dake wa
Itsumo boku no soba de kagayaite mieru, sono mama no iro de

Please Gimme Your Voice! kimi to boku ga, ima koko ni deatta koto
Chīsa na shiawase ga ōki na, ai ni tsutsumareteku

Kimi no hitomi ni utsutta boku no kao ga hokorondeku
Omō mama ni, ikiru kimi no sugata ni naze ka sukuwareru

Sekaijū wo nomi komu uneri no yō na, nagare no hayasa ni mi wo makasetsutsu
Ichiban me ni taisetsu na koto dake wo, ashita mo shinjite

Kyō wa tada chippoke na, shiawase wo mune ni daite
Sore dake de kokoro tomoru hikari sore wa tabun kiseki

Ikite yuku koto no hateshinai fuan ni, mi wo furuwaseru boku no katawara de
Tōmeina kimi no kotoba to egao ga, shizuka ni kotaeru

Please Gimme Your Voice! kimi to boku ga, ima koko ni deatta koto
Chīsa na shiawase ga ōki na, ai ni tsutsumareteku

Ima wa mada chippoke na tsubomi dakara, itsu no hi ka
Tatoe na mo nai hana to shite mo, sakihokoru tsumori sa
Aisuru kimi no tame ni
ありふれた日々の 素晴らしさに 気づくまでに
ふたりはただ いたずらに時を重ねて過ごしたね

まるで空のように 大きな夢 紡ぐことも
道の端に 咲く名もない花にはとてもかなわない

涙のひと粒が水玉のようにはじけても 君の笑い声だけは
いつも僕のそばで輝いてみえる そのままの色で

Please Gimme Your Voice! 君と僕が いまここに出会えたこと
小さな幸せが大きな 愛につつまれてく

君の瞳に映った 僕の顔が ほころんでく
思うままに 生きる君の姿になぜか救われる

世界中を飲み込むうねりのような 流れの速さに身を任せつつ
いちばんめに大切なことだけを 明日も信じて

今日はただちっぽけな 幸せを胸に抱いて
それだけで心灯る光 それはたぶん奇跡

生きてゆくことの果てしない不安に 身を震わせる僕の傍らで
透明な君の言葉と笑顔が 静かに答える

Please Gimme Your Voice! 君と僕が いまここに出会えたこと
小さな幸せは大きな 愛につつまれてる

いまはまだちっぽけなつぼみだから いつの日か
たとえ名もない花としても 咲き誇るつもりさ
愛する君のために
Gallery
[
]
Videos
[
]