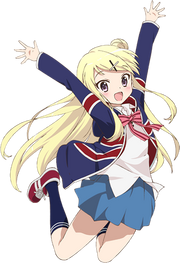 Hello, my name is Chris. I adopted this wiki a few years ago and still tend to show up from time-to-time. If you ever need me feel free to send a message!
I like everyone in the series, but I guess my favorites would be Karen and Yoko, and Aya a bit. I really wish the series has been longer and attracted more fans, maybe it would have had a Season 3 by now...
I'm also on the Is The Order A Rabbit? wiki so feel free to hop by there too! It's such a cute and fun series, just like this one.
Character Opinions
Edit
Shinobu - She's really funny but she is probably my least favorite of the group.
Alice - She's so cute~
Yoko - I like her and Karen about the same, I'm not really sure who I favor more.
Aya - I love Ayaya, she's so sadly cute. I wish she could confess her feelings to Yoko but I know it's next to impossible XD poor thing.
Karen - She's so cute and funny x3
Isami - she's alright. I don't really have much opinion.
Akari - She's pretty funny as well.
Honoka - She's cute, but because she feels like a composite character mix of Aya and Shino. I'd love it if she became a main-main like the others if Season 3 gets made, or even if they added in another girl.
Sakura - She'd be a fun teacher to have XD
Favorite Images
Edit
Community content is available under
CC-BY-SA
unless otherwise noted.