The Sandman Will Keep You Awake - The Loop
Play Sound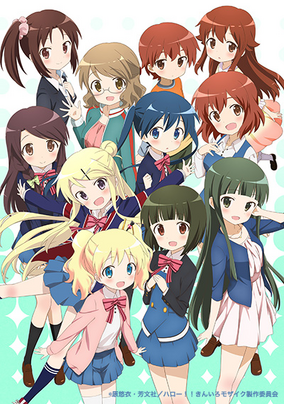 Hello!! Kin-iro Mosaic is the second season of the anime. It first aired on April 5th 2015, like the first season it was produced by Studio Gokumi. The opening theme is Yumeiro Parade and the ending theme is My Best Friends.
Main Characters
[
]
Voices sourced from: Wikipedia
Shinobu Ōmiya (

大宮 忍

Ōmiya Shinobu)

Voiced by: Asuka Nishi
A graceious and friendly 16-year old girl, who is nicknamed Shino by her friends. She previously stayed over at Alice's home in England, and although she herself is rather bad at English and has generally poor grades, she wishes to become an interpreter. She has somewhat of an obsession with blonde hair, especially that of Alice and Karen. She also has a talent in sewing.
Alice Cartelet (

アリス・カータレット

Arisu Kātaretto)

Voiced by: Manami Tanaka
A petit blonde haired girl from England who transfers into Shinobu's school and stays at her house. She has a strong bond with Shinobu, and loves Japanese culture.
Aya Komichi (

小路 綾

Komichi Aya)

Voiced by: Risa Taneda
Shinobu's classmate and friend since middle school. Intelligent but shy, she has an increasingly prevalent crush on her friend Yoko, but repeatedly denies it in a manner akin to a tsundere.
Yōko Inokuma (

猪熊 陽子

Inokuma Yōko)

Voiced by: Yumi Uchiyama
Shinobu's classmate and life-long friend. She is perky and optimistic, however also tends to be somewhat clumsy. She is also somewhat of a tomboy, and while it is unclear whether she recognises Aya's feelings for her, she enjoys teasing Aya, but also cares deeply about her, and can tell when something is bothering her.
Karen Kujō (

九条 カレン

Kujō Karen)

Voiced by: Nao Tōyama
A half-British, half-Japanese girl who was Alice's friend back in England. She also comes to Japan with her family and enrolls in Shinobu's school. She is energetic and friendly, but can be a tad naive, particularly regarding her family's wealth. She often speaks in broken Japanese.
Honoka Matsubara (

松原 穂乃花

Matsubara Honoka)

Voiced by: Ayaka Suwa
Karen's classmate, who, after finally working up the courage to ask for her e-mail address begins to become closer friends with her and the others. Like Shinobu, she has an affinity for blonde hair, which leads to them forming an informal blonde hair fanclub together.
List of Episodes
[
]
#
Title
Date
Episode Summary
1

Haru ga Kita

April 5, 2015
Shino and Aya struggle getting used to not being in the same class as their friends, while Karen finds herself intimidated by her new strict homeroom teacher, Akari Kuzehashi. Akari really wants to get along with the students, but always scares them instead. Later, the girls try to learn more about Shino and find out the cause of her foreign interests. 
2

Purezento Fo Yu

April 12, 2015
Akari continues to try to get her students to like her and later the girls get together at Shino's to make sweets for an afternoon tea party. Later, as Shino's class makes happis, Akari is given encouragement from Karen and is able to sincerely smile.
3

Anata ga Tottemo Mabushikute

April 17, 2015
Yoko's younger twin siblings show up at school and cause problems with a lie. Aya tries to help them become more honest and apologize and realizes that she doesn't take her own advice. The girls try to help Alice miss her dog from back home less.
4

Ami ni mo Makezu

April 24, 2015
Alice and Aya become delinquents in order to look grown up, but Shino and Alice get into a fight. They soon make up, while Aya accidentally trims her bangs too short and is ashamed over her exposed forehead. Alice worries over the flowers she planted a few months ago.
5

Come Play with Your Big Sister

Onee-chan to Asobo

May 3, 2015

Concerned over Isami's strange behavior the girls invite her to hang out with them. While depressed, she soon becomes her usual self after helping Shino. Later in the day, Alice finds inspiration from a story and goes on a trading quest, eventually getting a valuable ring from Karen - which she trades with Isami for the one thing more important to her, Shinobu. 

6

Kininaru Ano Ko

May 10, 2015

The girls visit a restaurant run by the family of a classmate of Karen, Honoka Matsubara. After Shino and Honoka bond over their love of blonde hair, Honoka attempts to get to know Karen by asking for her e-mail address. The next day, Akari thinks back to her high school days when she first met a familiar upperclassman... 

7

Mai Dia Hiro

May 17, 2015

Karen runs from home after a fight with her dad and spends the night at Shino's. The next day she makes up with her father and tells the others about Alice from their past. One day, she tried to catch her friends' attention while she was focused on learning Japanese and she fell and got hurt. Just as she lost hope of being found, Alice had come out and searched all evening to try to find her. Since then, Karen has felt that Alice is someone very special to her and calls her a Hero. 

8

Mo Sugu Natsuyasumi

May 24, 2015

The girls make plans to go to the beach, but have to prepare for their final exams. As they stop by a fast food joint, Shino suggests that Alice joins Karen in England while she visits her parents. Later, as everyone is tidying the classrooms the girls decide to go out and shop for swimsuits.

9

Totteoki no Ichinichi

May 31, 2015

Aya pays Yoko a visit to help her get her homework sorted; leading to various mishaps. Meanwhile Shino goes out for a haircut while Karen and Alice hang out with Honoka. After, Karen motivates Honoka for her upcoming tennis match, which takes place while they will be visiting the beach.

10

Umibe no Yakusoku

June 7, 2015

The girls spend a long day at the beach together, as do Sakura and Akari. After a day of swimming, humiliation, and misunderstandings they visit the Seaside Park before making their way home.

11

Hon'no Sukoshi no Nagai Yoru

June 14, 2015
Before leaving for England with Alice, Karen spends a day with Honoka. During their time away, Shino feels lonely, so Aya and Yoko try to cheer her up.
12

Because I Love You More Than Anything

Naniyori Tobikiri Suki Dakara

June 21, 2015
Alice and Shino have a long awaited phone conversation before Alice returns back to Japan. After her return the girls bond over together as they learn what happened during her trip. Meanwhile, as the new semester begins, Shino learns she has a new talent, but tries to decide on what she needs to focus on; this talent, or her dream.
Notable Staffs
[
]
Director: Tensho
Series Composition: Yuniko Ayana
Character Design: Kazuyuki Ueda
Color design: Ritsuko Utagawa
Art Director: Chikako Shibata
Director of Photography: Hyeon Dae Song
Editing: Mutsumi Takemiya
Sound Director: Jin Aketagawa
Music: Ruka Kawada
Music Production: Flying Dog
Producer: Genco
Animation Production: Studio Gokumi
Production: Kiniro Mosaic Production Committee
Gallery
[
]

Eh? This article or section is incomplete. You can help Kin-iro Mosaic Wiki by expanding or finishing it.
- The editor who added this tag elaborates:
Gallery