Although I'm Small
ちっちゃくたって
Chicchaku Tatte
Staffs
Scenario
Yuniko Ayana
Storyboard
Tensho
Episode Director
Ryūhei Aoyagi
Animation Director
Mitsunori Yamaguchi, Kōichi Usami, Masayuki Nonaka
Chief Animation Director
Kazuyuki Ueda, Takeshi Ninomiya, Masayuki Nonaka
Japanese Air Date

July 13, 2013

Music
Opening
Jumping!!
Ending
Your Voice
Navigation
Previous
Next
← The Wonderland's
What Kind of Friends
I Can Make? →
"I love Japan!"
Although I'm Small (ちっちゃくたって, Chicchaku Tatte?) is the second episode of the anime adaptation of Kin-iro Mosaic.
Alice spends the day at school lamenting her short height whilst also developing a one-sided rivalry with their English teacher, Sakura Karasuma. Later, Alice goes on an outing with Shinobu and her friends, Aya Komichi and Yoko Inokuma, before they try to figure out what to do for their future careers. Some awkwardness follow as Shinobu and the others assume Alice is homesick and try to help her out.
Summary
[
]
Plot
[
]
The girls get to know each other and catch up since their last meeting several years back. They take the day to bond together by going shopping as Alice is adjusting to her new life in Japan - causing the others try to comfort her after they worry she may be homesick.
Summary from BD
[
]
Full Summary
[
]
Trivia
[
]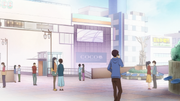 There was a cameo appearance of a building with the logo of COCO Cram School, where Alice's seiyu, Manami Tanaka, learned how to speak proper English.
In this episode Shino was given very bright, blonde hair. But when she imagines it during Golden Times, it's dark colored.
Shino's dynamic with Alice throughout the series was explored in this episode. She ended up thinking Alice had been making a love confession towards her and because nobody clarified that she was wrong, she was led to believe it was the truth.
The breakfast scene is the exactly same as in the opening animation.
This is the only episode of the series not to feature Karen Kujō.
Differences with manga
[
]
Gallery
[
]